PANFLUTE AND ORCHESTRA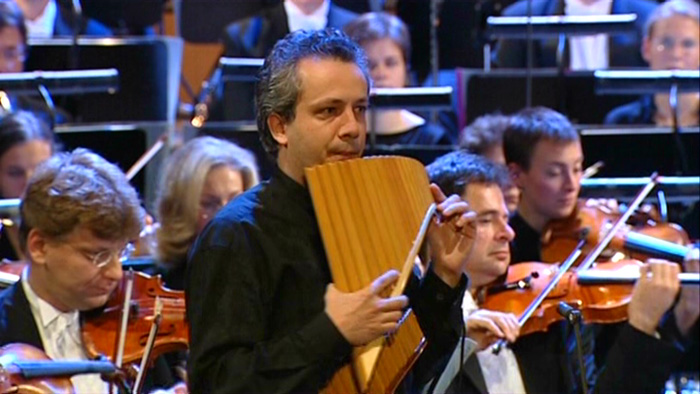 Being the soloist in concerts with symphony or chamber orchestra Herkenhoff knows how to fascinate also people that normally don't go to "classical" concerts. His repertoire is manifold and extensive. More often he got best reviews from experts for his interpretation of baroque music.
His performances with music that is inspired by east-European roots (Bartók, Hadjiev, Herkenhoff) are electrifying and have public appeal. Due to his collaboration with internationally acclaimed soundtrack composers such as Howard Shore (Lord of the Rings) and Ennio Morricone he has also built up a good reputation in this area.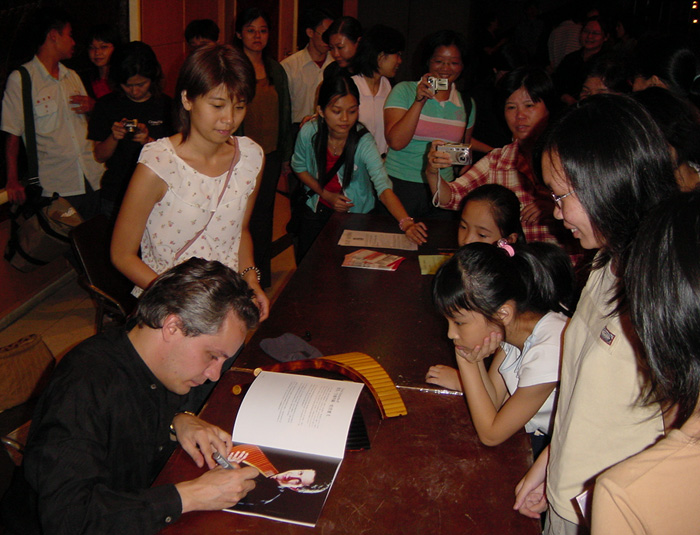 Ulrich Herkenhoff, regularly being guest of prestigious orchestras, always has sold-out concert halls and creates long lasting concert experiences, during which also the dialog with the audience does not go short.
Some of his CD-productions (click on the pictures to listen to examples and to get further information)
*Program Examples (pdf)

*Press-pictures of this program for download

Following is an extract of orchestras Ulrich Herkenhoff played concerts and recorded CDs with (in alphabetic order):
Amati-Ensemble, Munich, Germany
Attila Balogh
Archi della Scala, Milan, Italy
Johannes Rieger
Austria Festival Symphony Orchestra, Salzburg, Österreich
Reinhold Wieser
LINK
Brandenburger Symphoniker, Brandenburg, Germany
GMD Michael Helmrath
LINK
Capella Istropolitana, Bratislava, Slovenia
Volker Schmidt-Gertenbach
LINK
Chursächsische Philharmonie, Bad Elster, Germany
Florian Merz
LINK
Ceská komorni filharmonie, Prague, Czech Republic
Petr Chromcák
LINK
Dallas Chamber Orchestra, Texas, USA
LINK
Delaware Symphony Orchestra, Pennsylvania, USA
Stephen Gunzenhauser
LINK
Georgisches Kammerorchester, Ingolstadt, Germany
Ariel Zuckermann, Daniel Beyer
LINK
Heilbronner Sinfonie Orchester, Heilbronn, Germany
Peter Braschkat
LINK
Hofer Symphoniker, Germany
Golo Berg
LINK
Hessisches Staatsorchester Wiesbaden, Germany
Cristian Mandeal
LINK
Just Music Philharmonic Orchestra, Taipeh, Taiwan
LINK
Kammerorchester Arpeggione, Hohenems, Austria
Lev Markiz
LINK
Kammerorchester MUSICA VIVA Moskau, Russia
Alexander Rudin
LINK
Kurpfälzisches Kammerorchester, Mannheim, Germany
Wolfgang Hofmann, Klaus Peter Hahn, Frank Zacher
LINK
Lancaster Symphony Orchestra, Pennsylvania, USA
Stephen Gunzenhauser
LINK
Münchner Rundfunkorchester, Munich, Germany
Toshiyuki Kamioka, Gavin Sutherland
LINK
Münchner Symphoniker, Munich, Germany
Johannes Fritzsch, Ludwig Wicki
LINK
Nordwestdeutsche Philharmonie, Germany
Frank Beermann
LINK
Osnabrücker Symphonieorchester, Germany
Norbert Strolz
LINK
Orchestra da camera Milano Classica, Milano, Italy
Johannes Rieger
LINK
Orchestra della Pasqua Musicale Arcense, Arco, Italy
Peter Braschkat
LINK
Orchestra Roma Sinfonietta, Rom, Italy
Ennio Morricone
LINK
Orchestra Sinfonica Bari, Italy
Eduardo Alvarez
Prager Festival Orchester, Prag, Tschechien
Petr Chromcák
LINK
Polizeimusik Oberösterreich , Linz, Österreich
Andreas Schwarzenlander
LINK
Polnische Kammerphilharmonie, Sopot, Poland
Wojciech Rajski, Krzysztof Slowinski
LINK
Preußisches Kammerorchester, Prezlau, Germany
Frank Zacher
LINK
Radio-Philharmonie Hannover der NDR, Hannover, Germany
Rumon Gamba, Florian Merz
LINK
Rundfunk-Sinfonieorchester Berlin, Germany
Ari Rasilainen
LINK
Sinfonie Orchester Wuppertal, Germany
Toshiyuki Kamioka
LINK
Slowakische Sinfonietta, Slowakia
Mario Kosik
Sofia Soloists Kammerorchester, sofia, Bulgaria
Plamen Djouroff
LINK
Südwestdeutsche Philharmonie Konstanz, Germany
Frank Zacher
LINK
Südwestdeutsches Kammerorchester Pfortzheim, Germany
Vladislav Czarnecki
LINK
Thailand Philharmonic Orchestra, Bangkok, Thailand
Russell Guyver
LINK
Tübinger Kammerorchester, Tübingen, Germany
Gudni Emilsson
Württembergische Philharmonie Reutlingen, Germany
Gheorghe Costin
LINK